On March 15th, 2016, a delegation of US FDA China Office visited CPU. The delegation was composed of Dr.Leigh Verbois, Country Director; Dr.Xin Qiang, Deputy Country Director; Dr. Wang Gang, Assistant Country Director, etc. A special report entitled "Update on CDER's Novel Drug Approvals and Priorities" was delivered by Dr.Leigh Verbois. Over 200 persons attended the symposium, which was chaired by Prof. Ding Jinxi. The attendants included government officials, professors, members of pharmaceutical enterprises, undergraduate students, postgraduate students and overseas students .
In the symposium, Dr.Leigh Verbois made a detailed introduction on framework and work contents of US FDA,personnel makeup and priorities of OPQ, four CDER's modes of accelerating drug approvals, novel drug approval highlights of CDER in 2015, novel drug approval priorities of CDER in 2016 (including new supervision functions, CDER-ORA PAG agreements, new IT system, "individualized" health-care policy, simplification of clinical trials, etc.). In interactive session, Dr.Leigh Verbois made detailed answers against various questions raised by some attendants, using easygoing and humorous language. She won thunderous applause from the attendants with her wonderful report and answers.
The symposium belongs to the 11th session of "Program of Special Series Reports by US FDA Officials",which is undertaken by School of International Pharmaceutical Business, CPU. As a non-profit platform for international communication for relevant pharmaceutical entities, the program aims to deepen understanding on CDER's novel drug approvals, strengthen exchange and cooperation between US FDA and CPU, further increase CPU's influence in pharmaceutical education, regulation and manufacture.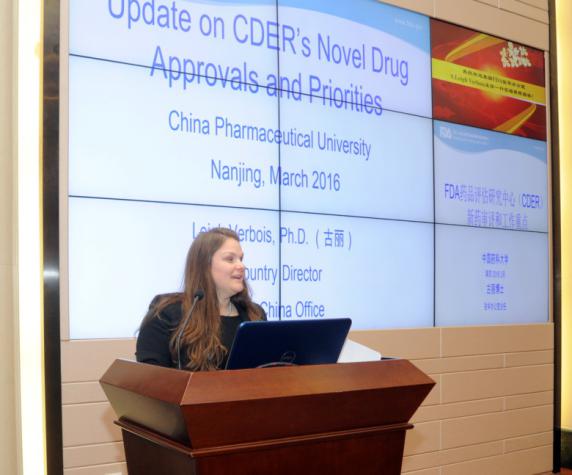 Dr.Leigh Verbois Delivering Report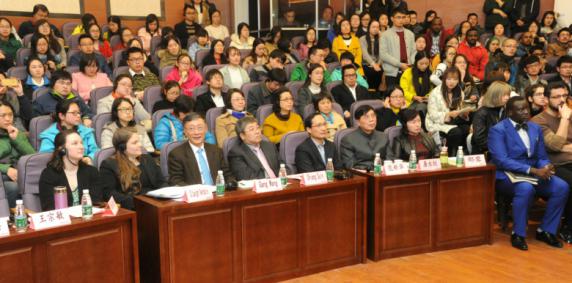 Scene of the Symposium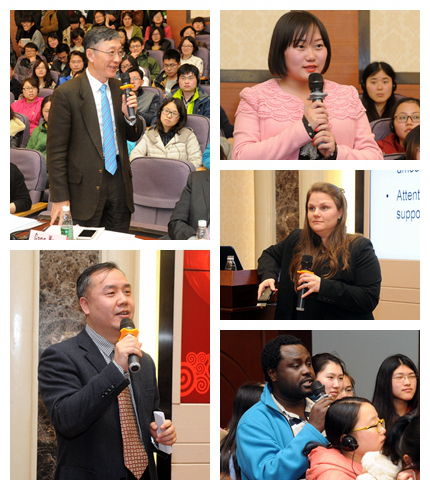 Interactive Session of the Symposium