On the morning of October 31st, 2017, Sino-US Professional Academic Forum of Drug Policy was held in 111 Lecture Hall of Economics & Arts Building, CPU with the theme of "Innovation & Market Access". The forum, undertaken by Postgraduate Union of our school, was co-sponsored by our school and University of South California, US. A delegation of 12 people from University of South California,US, headed by Dr.Frances Richmond and Dr. C. Benson Kuo, was invited to participate the forum. Over 200 people from CPU attended the forum including a number of leaders, teachers and students.
In the beginning, Dr. Lai Maode, president of CPU, delivered a welcome speech, introducing history and characteristics of CPU as well as academic relationship between CPU and University of South California, US, expressing his anticipation and encouragement to the forum.
Afterwards, eight scholars, in turn, made their academic reports in English. The following are their topics respectively: US Regulatory System Update:2017 by Dr. Frances Richmond; P&R Mechanism and DTP Distribution Mode of Innovative Drugs in China by Dr.Ding Jinxi; Introducing IMEDS: A Public-Private Resource for Evidence Generation by Dr.C. Benson Kuo; Determinants of Self-monitoring of Blood GlucoseAdherenceamong Community Patients with Type 2 Diabetes Mellitus in China by Dr.Li Hongchao; Dietary Supplements: U.S. Regulatory Overview by Virginia Hill; The Reform of Drug Review and Approval System in China by Shang Pu; Biomarkers and Cancer Immunotherapy by Mary Wilheim; Study of the IP Management and Strategies on M&A for"Grand Health" Companies in Yangtze River Delta:A View with the Comparison to California by Fang Zhongjian.
The three-hour forum, the first all-English academic forum ever held at CPU, played an active role in promoting international academic exchange of CPU and broadening our international academic horizon.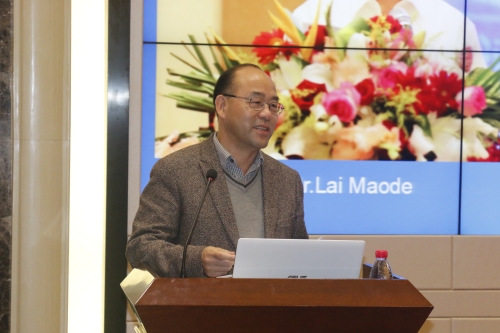 A Welcome Speech by Dr. Lai Maode, President of CPU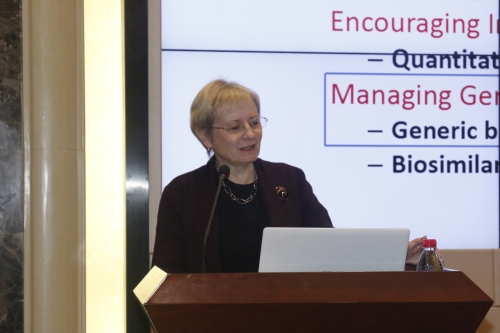 A Report by Dr. Frances Richmond of University of South California, US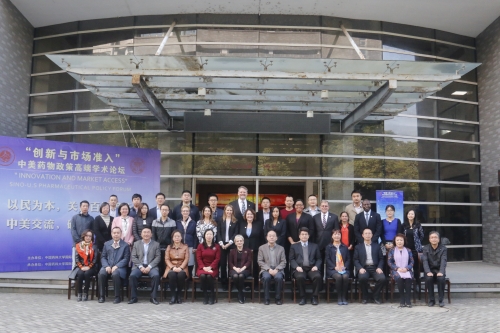 A Group Photo of Distinguished Guests and CPU Leaders