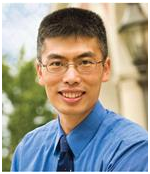 Huigang Liang, Robert Dillard Teer, Jr. Endowed Chair in Research
Director, Center for Healthcare Management Systems
Professor, Department of Management Information Systems
College of Business
East Carolina University, USA
303 Slay Hall
Greenville, NC 27858-4353
252-737-1462
HUIGANG LIANG is a professor of management information systems and Teer Endowed Chair in Research at the College of Business, East Carolina University, USA. His research focuses on information technology issues at both individual and organizational levels in a variety of contexts. His work has appeared in Information Systems Research, Journal of Management Information Systems, MIS Quarterly, Journal of the AIS, Communications of the ACM, Decision Support Systems, Information Systems Journal, and Journal of Strategic Information Systems, among others. He currently serves on the editorial boards of MIS Quarterly, Journal of the AIS, and Information and Management.
EDUCATION:
Auburn University, Healthcare Information System, Ph.D. 2003
Auburn University, Software Engineering, MS, 2002
China Pharmaceutical University, Pharmacy Administration, MS, 1998
China Pharmaceutical University, Pharmaceutical Sciences, BS, 1995